A need to improve supervision and security across a large site.
The client: Grundon Waste Management
Grundon are the largest privately owned waste management group in the UK. The company is well respected nationally for its professionalism, innovation and waste management practices.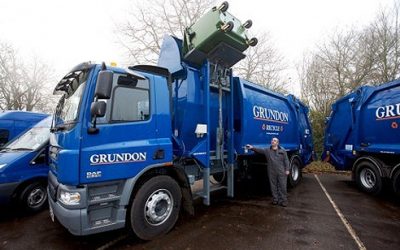 Health and Safety at Grundon is fundamental to the business and the company wanted to invest in improvements that enhanced not only Health and Safety, but also the security of its premises and workforce.
Grundon required a CCTV solution that could transform their capabilities to manage multiple site locations. In particular the areas with particular requirements were the waste transfer centre, fuelling station, weighbridge, staff car park and the transport holding areas. Each area required varying levels of image quality and recognition levels.
Amax Fire and Security – Providing the Solution
Grundon visited Amax Fire and Security during one of their open days. During this, the capabilities of the Avigilon Megapixel CCTV cameras were fully demonstrated to them. Grundon had an incumbent supplier, but had not been shown technology with similar capacity or flexibility. As such, they arranged a survey of their premises by Amax.
Amax Fire and Security worked closely with the Head of Security at Grundon to establish the exact level of recognition required in each area. The proposals were plotted onto a plan, the measurements placed into one of Avigilon's design templates, and a clear blueprint produced for their consideration. This allowed camera types to be correctly identified as the blueprint detailed the exact amount of pixels on target for each individual camera.
This aptly demonstrated that Amax would provide a bespoke solution that suited Grundon's business requirements, offering the right products at the right cost. The expert engineers from Amax then carefully considered the type of solution most suited to establish power and signal to each camera, deciding on a wireless solution from Wavesight.
Following the professional installation, Grundon now had access to:
Number plate recognition on main entrance and exit points – even in poor weather conditions

ID level images of those using the fuel station and weighbridge allowing them to match loads in and out with their records

Overview of the compound to track vehicles and personnel

Images within the waste transfer centre to monitor Health & Safety practices

Remote access of images across their network to those who have the required permissions
Grundon have seen a multitude of benefits since the project completion.
These include:
Monitoring by local managers and required senior personnel through the remote access

Improvements to working practices through clear identification of improvements across Health And Safety practice

Easy to locate staff and visitors

Quick and simple availability of suitable data for past incident investigations
Grundon have been so pleased with the result of the CCTV installation by Amax Fire and Security they have already added more cameras. They are looking to use more solutions from Amax at a number of other sites across their portfolio.