Improving safety & profitability in the waste & recycling sector.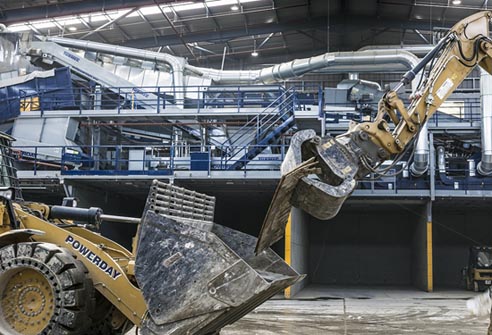 Powerday are an innovative recycling and waste management company founded in 1980. They deliver 100% recycled waste from organisations around London and the south east. Waste products are brought to the main depot by road, rail and barge. The residual waste products are recycled and made into a bio fuel. They operate in three locations across London.
Powerday initially wanted to improve the health & safety of their workers both inside and outside the plant in North West London. According to the 2013/2014 annual report by HSE, waste management is considered to be one of the most dangerous industries to work in throughout the UK.
powerday recycling amax security
Staff work amongst large moving machinery, such as tippers, conveyer belts, hoppers, stairways, gantries and vehicles. The waste materials themselves can contain hazards such as food waste, sharps and toxic materials. All waste needs to be sorted by hand, with workers reaching onto conveyer belts.
Powerday were using staff to monitor the operational staff, which was resource heavy and expensive, so there was a clear requirement to improve health & safety monitoring and a need to increase efficiency.
Initially, through discussions with other waste management companies, Powerday were considering traditional Point-Tilt-Zoom (PTZ) camera solution. Amax met with Powerday and immediately demonstrated a better solution using a Hi-Definition CCTV and video monitoring technology. To illustrate the advantages, Amax set up trial cameras and recorded images of the operation in progress and presented the footage. Powerday immediately saw the advantages and instructed Amax to start work.
A thorough site survey was conducted by our Business Process team which includes the Sales and Operations Directors. This identifies which locations require monitoring but also reveals other areas that may offer significant return on investment through a better understanding of day-to-day operations.
We identified where new digital cameras should be placed. Wide angle, hi-definition digital cameras were installed at key locations. By using a mathematical tool to calculate coverage and resolution, each camera was perfectly positioned to provide the best coverage, called 'pixels on target'.
Older exterior analogue cameras were integrated into the digital solution, encoding all images from analogue to digital, illustrating that existing systems can be adapted into a high quality video management solution, saving money. Video encoders and servers were installed to manage the feeds from the 20 Avigilon cameras.
Monitoring the entire system was also carefully considered and implemented in a structured way:
A central control room monitors all camera and servers and encoders record all images.

A second monitoring station was installed at the vehicle weighbridge

Finally the health & safety staff had their own monitoring room, with a different configuration
This provided an organisation wide monitoring system, with each key department managing the areas of their own responsibility and with senior staff monitoring all aspects of the business. Finally, the entire system can be monitored remotely from anywhere in the world with a Smartphone, tablet or other device with internet access.
The initial requirement of improved health & safety was solved at a stroke. The system is incredibly easy to use and staff can quickly view any camera feed and easily find recorded images. Any activity that posed a risk could be quickly identified and new procedures implemented. This changed the business monitoring systems into a pro-active tool. Potential risks can be identified before an incident occurs, reducing the overall chance of serious incidents or breaches in Health & Safety.
Whilst at first the staff were sceptical, they soon realised that the improved monitoring was not only improving their safety, but also protecting them from any allegations of breaches in health & safety or other incidents. But it was the insights the system gave into day to day operations provided the best ROI:
False claims by staff eliminated

Staff are quickly located throughout the plant when required

Vehicle movements are better tracked and processes improved

Elimination of unauthorised drop off by vehicles

Machinery and controllers are closely monitored, reducing down time

Better protection of key assets

Better tender conversion by demonstrating robust health & safety

Overall evidence for implementing operational improvements right across the organisation
The client is now looking to roll-out the system to all three London recycling centres. Further work is planned integrating the system with license plate recognition systems, weighbridge, accounts and invoicing.
Traditionally seen as a 'grudge' buy, the monitoring system now delivers real savings and improved safety. By designing a proactive tool, management can see where operations can be improved. In terms of ROI the system is hard to beat. Once the technology is in place, it requires little maintenance and lasts for years. The level of investment required to bring about such benefits is relatively very small indeed.
The system also of course provides superb traditional security, both inside outside and inside the plant, 24 hours per day!