Good security and storage is essential for all of our customers!
The Client: Titan Storage Solutions & their London based sister company; CitySpace.
Security for companies offering self-storage couldn't be more important – it is an essential part of their service. The safe, secure storage of their clients' property is the very essence of their service – or as the French would have it, 'raison d'etre'.
Additionally, an excellent security system can be utilised as a business intelligence tool, as well as helping to maximise staff productivity. This case study shows how Titan and CitySpace, two of the UK's leading self-storage companies, have been highly innovative in their use of their security systems to leverage them to the maximum.
Titan Storage Solutions was founded in 2011, and since then has gone from strength to strength, growing to six sites by the end of 2016, with serious expansion plans for 2017 and beyond. It provides a comprehensive, affordable removals and storage solution for its customers.
In early 2017, CitySpace (their sister company) was established, providing a range of purpose built, bright storage units in the heart of central London, for the use of individuals and businesses. The stores are located in underground car parks right in the heart of the city, providing brand new, clean, modern storage space for people living and working in London. Their facilities are easy to access, secure, and provide you with flexible storage solutions on your doorstep.
Both companies place the customer at the centre of their business, which we believe is the secret to their success. Their clients want to feel safe when using the service and want to be absolutely confident that their property is secure. Titan and CitySpace need a security company who understood their business objectives, and would deliver a solution which was more than just a standard security system – it would meet their management needs as well.
This is a highly competitive market, so overheads need to be kept down, to keep the price attractive to their customers – therefore, the security and fire solution needs to be robust, effective, affordable, and have longevity. These requirements need to be built-in at the design level.
Planning for growth – choosing the right new locations
Titan and CitySpace are expanding rapidly, with an ambitious growth plan, including many new sites across the UK. Selecting and acquiring the right sites, which will be commercially lucrative and cost-effective to run, is essential. As each site has its own individual quirks and idiosyncrasies, so the work of the Amax security consultants must start even before the site has been acquired.
As technical partners, Amax work closely with Titan and CitySpace to survey every potential site, and assess its suitability; this includes the practicalities and cost of making it secure and the logistics of ongoing maintenance. Obviously, selection of a new site is highly commercially sensitive, and confidentiality is an essential (and valued) part of the Amax service.
The optimum security solution for each site
Once a new site has been selected and acquired, then the security system's design and installation is an intrinsic part of its refurbishment. Each site will require:
The right access control. This allows customers easy access to their units only
CCTV – for the safety of customers and staff
Intruder & Fire Alarms
Ongoing maintenance

The access control solutions which Amax recommended to Titan and CitySpace have been specifically developed for the self-storage market. Each customer is issued with their own unique PIN, which when used to access the main entranceway automatically releases their specific storage unit. If any other units are tampered with, then the alarm is sounded and raised with the Titan security team (during out-of-hours, this may be off-site). This ensures that any 'tailgaters' can't gain unauthorised access.
All components are selected to give optimum functionality coupled with good longevity, ensuring minimum ongoing maintenance.
CCTV cameras are positioned to ensure that staff can manage the site effectively and efficiently, whilst providing management reports which add value at the Board and operational levels.
All cameras provide conviction-quality images which helps keeps fraud (and other criminal activity) at a minimum. The whole system provides both visual and electronic protection of the site – a 'belt & braces' approach for maximum effectiveness.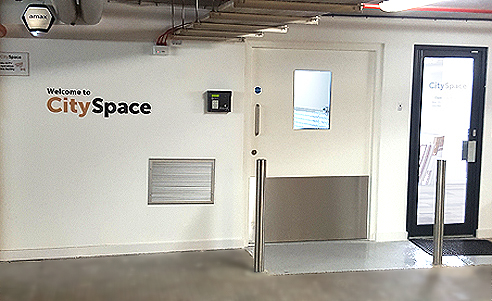 Keeping it safe and secure – 24/7
Once installed, the security systems need to be maintained and serviced. Keeping the equipment serviced regularly ensures that it works when it's needed (essential!) and it lasts longer. Amax works closely with the IT department to address any unexpected issues quickly.
In particular they provide a remote diagnostic service which ensures:
Continuous monitoring for proactive preventative maintenance

Reduces downtime as many problems can be fixed without a site visit

Increases first-time fix rate, as engineers are forewarned of the requirements
However, as Amax always recommend robust and reliable equipment, the components are more likely to be upgraded to obtain the latest functionality long before wear and tear takes any toll. Therefore, call-outs are kept to a minimum, ensuring a very cost-effective maintenance package is provided.
Easy-to-use for clients: high-quality business information
The result for each location is a system which Titan's and CitySpace's clients find easy to use and gives them total confidence their property is secure. In this competitive market, meeting the clients' needs helps to attract new clients and retain existing ones.
The information reporting allows Titan and CitySpace to manage all their staff and sites effectively.
Amax's ongoing technical partnership with Titan and CitySpace ensures that all their new sites are pre-screened for security, ensuring that they are viable to protect at a reasonable cost. This ensures no costly mistakes are made in site acquisition, and that new sites can be secure and operational very quickly.
The fire & security solutions installed are:
Easy to use system for the clients

Ensures access to units is provided to authorised clients only

Fraud is minimised and court evidence (if required) is robust

Maintenance is proactive and ongoing

Remote diagnostics keeps costs down

Management reports provides keep business information