Queue Monitoring Systems & Crowd Control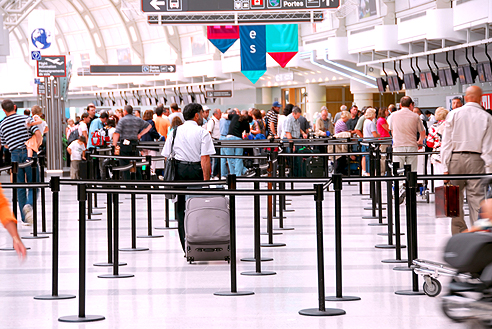 Queue Monitoring & Crowd Control Systems
If you manage a visitor attraction, public building, sports venue or event, you'll know that queuing & crowd control is one of the most important aspects of your operations. Large crowds present health & safety challenges and affect turnover if there are too many people in one place, at one time. The question is, can you easily monitor all your visitors, keep them safe and maximise their ability to spend by reducing overcrowding?
Use intelligent video systems
If you think that CCTV is just for crowd security or crowd control, it's time to think again. Advances in technology has transformed how CCTV is be used to monitor and control crowds, allowing you to react quickly and efficiently to behaviour.
Firstly, the latest hi-definition cameras deliver incredible clarity, making analogue CCTV systems completely redundant. Hi-definition cameras can cover large areas providing simultaneous situation awareness and ID level images, meaning far fewer cameras. Specialist cameras for different areas mean better intelligence, fewer staff and lower maintenance costs. For example, a 50,000 seat stadium can be centrally monitored by just 16 x 16MP HD cameras!
But it's the intelligent video management systems coupled with analytics over viewing the images which are the real crowd pleaser. The power of these digital monitoring systems can allow you to:
Monitor the whole CCTV network simultaneously from a central location
Search and zoom to find trouble spots fast
Track abnormalities
See gates, barriers, stairwells or concessions at high resolution
Access control and fire safety systems integrated.
Track or find individuals in a crowd with ease
Monitor staff, tills, or restricted zones
You'll be able to identify potential issues early, proactively react and solve crowd or queuing issues before they become a problem. Over a short space of time the evidence you will accumulate will enable you to improve your entire operation. What's more, the entire CCTV network can be controlled through a central location or from mobile devices such as smart phones or tablets over the internet, keeping staffing costs down and response time fast.
Amax can show you how all this can be achieved and how simple the systems are to install and use. Contact us today.
Speak to our Queuing and Crowd Control systems specialist
Get in touch with us today to find out how we can help your business with our products & services.