Retail Security & Retail CCTV Security System Maintenance
Have you ever thought how retail CCTV could improve your turnover – and not just by reducing shoplifting? The latest retail intelligence systems & surveillance technologies can provide valuable insight into what is actually happening in a retail environment and help you make better business decisions. How?
Firstly, the latest hi-definition retail CCTV cameras capture images with incredible clarity. Evidential quality images are instantly fed to central, remote or mobile monitoring devices and cover very wide areas. This means better images, less cameras & less maintenance. But it's the retail CCTV video analytics that will really help you boost sales:
Heat map the most popular areas of the store or concessions
Monitor tills and queues and increase staff efficiency
Track the success of window displays and footfall
Better control and quicker response by security staff
Monitor stock and shelving in real time
React to health & safety issues
Integration with alarms and access control
A wide range of specialist cameras can be deployed across your retail premises to track KPI's, visitors and staff. All these images can be fed wirelessly to a central monitoring station, or other location to give marketing, operations and security different feeds, images and insight. The powerful VMS tools are easy to use and the search, find and zoom features allow you to proactively monitor and improve your operations.
The systems are also powered over their own cables, so installation is easy and your carbon footprint lowered. Multiple stores? No problem, your marketing department can track them all from head office over the internet. Access control for staff and fire safety systems and procedures can all be integrated. The possibilities are endless!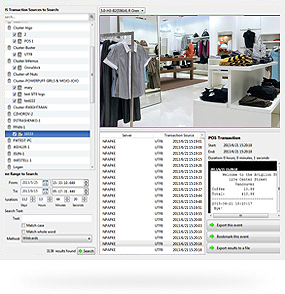 Amax can show you how this can be achieved, whatever the scale, size or scope of your retail operation. And yes! The systems also deliver unmatched security for your staff, visitors and premises and will slash shoplifting rates. Contact us today to see how your turnover can be increased and get a real business advantage.
Speak to our Retail Security systems specialist
Get in touch with us today to find out how we can help your business with our products & services.