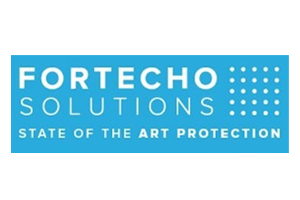 We are proud to be partnered with 'Fortecho Solutions'.
Fortecho Solutions is a key partner of Amax Fire and Solutions. They are an international Active RFID solution provider based in the UK, and with offices in mainland Europe, Australia, and the USA.
They work closely with RFID manufacturers to design bespoke OEM hardware to optimum levels of technical and industry expertise. This includes a variety of system integration, consulting and professional services.
This expertise makes Fortecho Solutions a critical partner of Amax Fire and Security.
Why Fortecho Solutions?
Fortecho Solutions provide a comprehensive range of reliable, intelligent and effective security solutions.
Fortecho
Fortecho is a comprehensive wireless security and environmental-monitoring solution designed in collaboration with leading art institutions. It is suitable for museums, galleries, large private collections, office buildings, places of worship, and art in transit, with every iteration of the system uniquely tailored to the particular assets it is installed to protect.
Fortecho Lite
Fortecho Lite is a scaled-down version of the museum-grade Fortecho system, suitable for residences, private collections, small galleries and temporary exhibitions. It is a standalone, touchscreen solution which offers the same wireless, 24/7 monitoring of paintings, prints, display cases, sculptures and other valuable artefacts on a smaller scale.
Fortecho Industry
This is a rugged, weatherproof and flexible solution for the protection of high-value assets in factories, warehouses, server farms, office buildings and constructions sites across a wide variety of industrial sectors.
Fortecho Marine
Fortecho Marine is designed specifically to ensure the security and environmental safety of high-value assets on board luxury yachts and other large marine vessels. It offers a similar array of cutting-edge wireless sensors to the museum-grade Fortecho system, expressly adapted to meet the particular demands of ships out at sea and at berth.
---